A Beautiful Tribute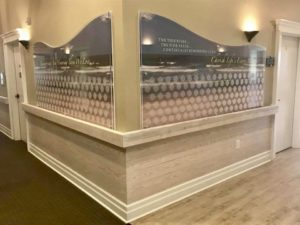 The SECU Crystal Coast Hospice House Sand Dollar Memorial provides a beautiful and lasting opportunity to remember loved ones and honor friends. Located inside our House across from the Nursing Care Station, the Sand Dollar Memorial features a beautiful coastal beach scene. Personalized, engraved sand dollars are permanently mounted on the Memorial and are highly visible tributes that will be enjoyed by patients, families, friends and visitors.
We invite you to dedicate a personalized, engraved sand dollar and create a permanent legacy and beautiful tribute to a person, group or organization that hold a special place in your life.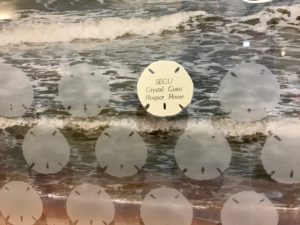 Your $1,000 donation made to the SECU Crystal Coast Hospice House Sand Dollar Memorial for each personalized sand dollar will help us to fulfill our mission to provide an inpatient Hospice Home to our service region and ensure exceptional care management and perpetual funding for facilities, services, programs, and future expansion.
To place your order for a personalized Sand Dollar Memorial, please complete the following form. Please complete at least one line to be engraved on your sand dollar. Engravings are limited to 3 lines of 14 characters per line (including spaces and punctuation marks). Characters are engraved in both uppercase and lowercase, so please complete the lettering exactly as you want it to appear in the final engraving. All wording requests are subject to review and approval by our Board of Directors.  Engraved sand dollars will be placed on the Memorial approximately 4-6 weeks after purchase.
Thank you for supporting the SECU Crystal Coast Hospice House!