Volunteers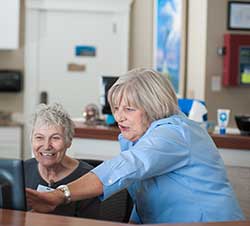 Thank you for your interest in volunteering to support the SECU Crystal Coast Hospice House. Volunteers are VITAL to all aspects of the SECU Crystal Coast Hospice House. Without volunteers, we would not be able to provide the facility or the care that offers comfort and dignity to our families, neighbors and friends during such a precious time. Volunteers are the HEART of our efforts.
There are two organizations that you can work with, Crystal Coast Hospice House (CCHH) and Home Health and Hospice Care (3HC). You may volunteer with either one or both.
If you are interested in volunteering, you may complete the contact us form or complete the information linked below and mail to either address listed or drop them by the facility.
CCHH is the nonprofit organization that owns the facility and property. We raise public awareness and provide education about hospice, develop programs to support patients and families, and raise funds to maintain the facilities and to make continued investments in the building, grounds, furniture, and equipment. CCHH holds public awareness, educational, marketing, and fundraising events - as well as keeps the community informed through mailings, presentations, web-based communications, etc. We also decorate the House for Christmas and other holidays, provide patient comfort items, review special requests from our operator, 3HC, and support other joint programs with 3HC and community civic groups to enhance our area's access to and experience with inpatient hospice care at SECU CCHH. CCHH volunteers are not involved in direct patient care. If you are interested in helping CCHH, please complete our volunteer profile form - just fill it out and either scan & email it to Kay Coole or mail it to us at: Volunteers, Crystal Coast Hospice House, PO Box 640, Newport, NC 28570. You may also drop it off at SECU Crystal Coast Hospice House.
3HC is the nonprofit organization that operates the Hospice Home and handles all staffing, including volunteers, that are involved in patient care. Sharon Baugus serves as the SECU Crystal Coast Hospice House patient care volunteer coordinator. Volunteers serve a tremendous role in the operations of the hospice home, and volunteer hours must make up 5% of total staffing hours for certain certifications. Special training and a commitment of 2 hours per week are important components of volunteering to fill direct or indirect patient care needs that qualify for the 5% needed. Please join this important volunteer force by completing the 3HC Volunteer Application and return it to Sharon Baugus by email, or mail it to the address below, or drop them by SECU CCHH. Once all the forms are received and reviewed, Sharon will schedule a training session and TB & drug screenings for you so you can work with patients and operations. If you have any questions about this level of volunteering, please contact Sharon by email or phone 252-777-4419. If you are mailing your forms, please address them to: Volunteers, SECU Crystal Coast Hospice House, 100 Big Rock Weigh, Newport, NC 28570.
We invite you to explore all our volunteer opportunities! You may complete and mail your forms together to either address listed above.
We look forward to hearing from you and appreciate your support.
Careers
All staffing and employment opportunities related to patient care and facility operations are handled by our operating partner, 3HC. 3HC is a private, non-profit organization based in Goldsboro, NC. With over 30 years of experience in the Home Health and Hospice care sector, and as the owner/operator of the "flagship" hospice home - Kitty Askins Hospice Center, 3HC brings ample experience as well as a unique caring philosophy that promotes dignity, love and comfort while meeting or exceeding all standards of care.
If you are interested in applying for a position, you may check the openings at their Careers link. You may want to submit your application for employment even if no positions are open at the SECU Crystal Coast Hospice House at this time. That way, your interest has been noted for any future openings that you may qualify for.