The Crystal Coast Hospice House Board of Directors is comprised of up to 15 community leaders from the business, medical and service sectors. They are a distinguished group of individuals whose outstanding leadership demonstrates a commitment to the tradition of yesterday and the vision of tomorrow.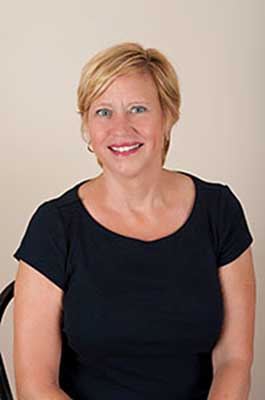 Kyra Moore
Board Chair

A resident of Carteret County for over 29 years, Kyra began volunteering when the house was still a "dream". Now that the Hospice House is a reality, she is dedicated to ensuring that the programs and services are consistent with our mission. She loves being a wife, a mother and a grandmother, and loves planning events!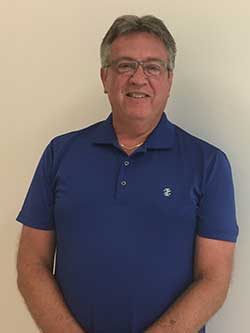 David A. Roach
Vice Chair
David has been the Director of Clinical Education with the Respiratory Therapy Program at Carteret Community College in Morehead City since January 2009. He formerly was a Respiratory Therapist at Carolina East Medical Center in New Bern for over 25 years. David is an instructor for the American Heart Association for both Basic and Advanced Life Support classes. David has supported Hospice care for many years and is honored to have the opportunity to serve on the Board of Directors for such a wonderful organization supporting patients and their loved ones.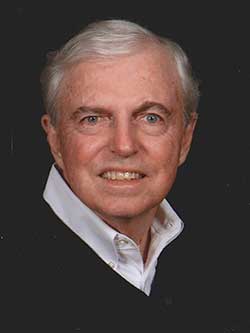 Leon Murdoch
Treasurer
Leon was born in Morehead City and was in the first graduating class of West Carteret High School in 1965.  After graduation, he worked for the Civil Service for four years and then attended East Carolina University and graduated with a degree in Business with a concentration in accounting.  Leon became a CPA and worked with small, regional, national and international public accounting firms up until his retirement in 2017. He specialized in working with construction, real estate developers and non-profit associations in the areas of tax, consulting and financial statement presentations.  Leon has been married to his wife Anne for 49 years, and has two children and three grandchildren.  He looks forward in retirement to spending time traveling, being with grandchildren more, fishing, golfing, and hunting.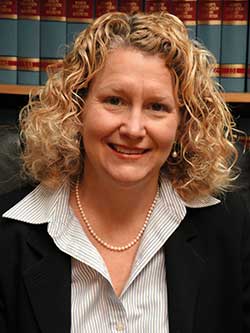 Jane A. Gordon
Secretary
Jane is an attorney at Kirkman, Whitford, Brady, Berryman & Farias, PA. She specializes in estate planning, estate administration and elder law. Jane understands the importance of hospice and what a wonderful gift it can be to a patient and his or her family because both of her parents were blessed to receive hospice care when they needed it. Jane and her husband Tom Samojedny are the proud parents of two wonderful teenage boys, and she enjoys time with family, hiking, being on the water, and her two dogs.
Beth Atkins
Director
Beth is a business representation and commercial real estate attorney with Howard, Stallings, From, Atkins, Angell & Davis, P.A. She graduated from UNC-Chapel Hill and the University of Virginia School of Law, and has lived and practiced in New Bern since she started practicing in 1985. Beth grew up in Newport News, Virginia, but returned to her birth town of New Bern where she has been very active in the community over the years, including serving as Chairperson of the New Bern Area Chamber of Commerce, and on Boards of numerous organizations including health related organizations such as MERCI Clinic and the CarolinaEast Foundation. Beth has two adult children, a son and a daughter, who live in Northern Virginia and Raleigh, respectively. While she has no grandchildren yet, she does claim one grand-dog. When not working, Beth enjoys travel and hiking. In the summer of 2019 she combined her interests and did a group hike from southern Switzerland into northern Italy in the Alps.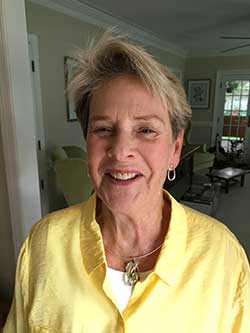 Jo Anne Bolt
Director
Jo Anne has a BS Degree in Nursing and worked over 36 years in various nursing and management positions. When she retired, she was serving as the Administrator for an ambulatory surgery center working with seven hand and shoulder surgeons. She is currently performing accreditation and Medicare surveys for AAAHC on a part-time basis. Jo Anne currently resides in Morehead City with her husband and is active with the Woman's Golf Association at MCCC.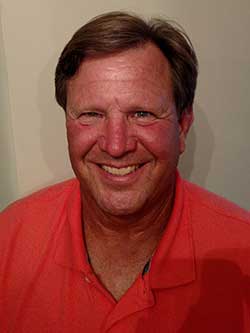 Eddie Cameron
Director
Eddie is the President of Eddie Cameron Construction, Inc. in Morehead City. He has been in the family business since 1985 and enjoys the challenges of creativity that the job offers. His interest in hospice came from his experience with hospice in Durham, NC, when his father passed away in 2015. He and his family spend a lot of time on the water - mainly fishing - and enjoying the opportunities the county has to offer.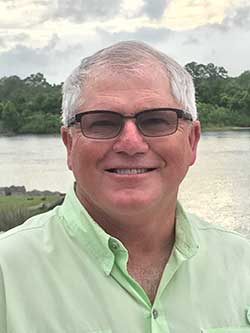 Thor Coole
Director
Thor Coole is a Project Management Professional (PMP) and a Senior Project Manager with experience in large scale, multi-site projects. Thor has a passion for service and before joining the Board of Directors for Crystal Coast Hospice House had attended many of the charity events here on the coast over the last few years. Thor considers himself privileged to be able to serve on the Board of Directors and finds this to be a rewarding effort. When Thor is not working, he spends his time with his wife, Kay, and their 65-pound bundle of four-legged love, Noel. Most of their spare time is spent on the water on North Carolina's Crystal Coast near Morehead City.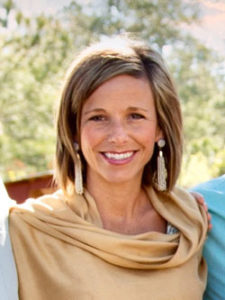 June Dickinson
Director
June was raised and has always resided in eastern NC.  She graduated from the University of North Carolina Wilmington with a Bachelor of Arts in Psychology and later received her Associate Degree as a Registered Nurse from Brunswick Community College.  June has worked in the private mental health field, public school system, and in nursing at both New Hanover Regional Medical Hospital in Wilmington, NC as well as at Carteret General in Morehead City.  She currently works from home as a medical triage RN for a private insurance company serving members both in medical and behavioral health crisis.  June and her family lived in Beaufort a few years back, and relocated back to Morehead approx. 2.5 years ago in a permanent move to be closer to family and friends.  Her husband Jeremy is in banking and a Carteret county native.  Their four children, Caroline, Tucker, Abigail, and Lucy keep them both very busy.  June enjoys running, boating, and being active in the local community.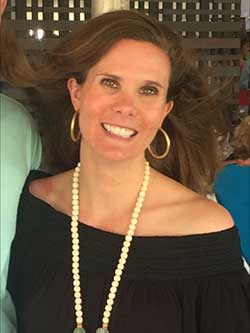 Elise Gay
Director
Elise was raised in Morehead City. She graduated from North Carolina State University with a Bachelor of Arts in Communication and from East Carolina University with a Master of Arts in Teaching. Elise has worked in both the public and private sectors in insurance and health care and traveled for business extensively throughout the US. Elise and her family lived in Greenville for 7 years before making their way back to Morehead City. While in Greenville, Elise helped found a women's volunteer group which has now grown to The Junior League of Greenville, NC. Elise currently works for Lucas Research, Inc., as a Clinical Research Liaison. Her husband Mitch works in banking. Their young children, son Webb and daughter Adelaide, also keep the family on the go. Elise loves the sun, community involvement, and shopping.
David Oliver
Director
David was born in Raleigh, grew up in Pine Level, and attended NC State university where he earned his BS in Mathematics. He then earned his MD Degree from Bowman Gray School of Medicine of Wake Forest University in 1974. After completing his internship, residency and cardiovascular fellowship in Winston-Salem, he and his family moved to New Bern to begin his medical practice. In 1998 his group merged with several others to form Coastal Carolina Health Care (CCHC), where he has practiced as a physician member of CCHC until his retirement in April, 2020 (although he remains in an administrative and supervisory role with the CCHC Heart and Vascular division). He and his wife, Patricia, have twin daughters (both Pharmacists) and 5 grandchildren.
Booth Parker
Director
Booth grew up in Jacksonville, NC, and attended NC State University where she earned her B.S. in Business-Finance Concentration and a Master's Degree in Accounting. She has been a licensed CPA since 2005. Booth worked in the automobile industry as a CFO for nearly 15 years with her family's Stevenson Automotive Group. She started Haley and the Hound, a women's and children's clothing brand, as a side business, and she still operates that today - selling online and wholesale to brick and mortar boutiques. Booth is planning to offer personal financial coaching in the future, as well as teaching high school personal finance. She has been married since March 2004 to Wood Parker and has one son, Wood V. She is a member of First Baptist Church Morehead City, and loves boating, fishing, traveling, baseball, and dogs (she has 5).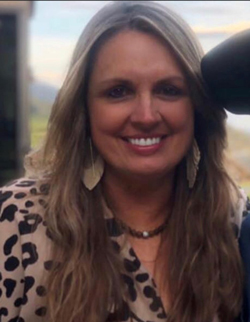 Audra Smith-Odum
Director
Audra was born and raised in Carteret County. She has been a hairstylist for over 25 years and has owned her own salon for the past 19 years. A breast cancer survivor going on 12 years, Audra received chemotherapy, radiation, and surgery in 2008 and 2009. SECU Crystal Coast Hospice House holds a special place in her heart, and she loves working on the board to help support the facility. Audra is married, and she and her husband love spending time with family (son Cole, who is local, and daughter Harlie, who lives in Montana) and friends.
Sarah Strange
Director
Sarah was one of 4 original board members who started working to bring SECU Crystal Coast Hospice House to fruition. Sarah remained on board until after the doors opened. She has joined as a board member again and continues to support this wonderful facility and what it provides to this 5 county area, to the families and to their loved one. She is honored to be included and to be a part of CCHH once again. Sarah loves being a grandmother to 4 precious grandchildren and spending lots of time with them. She enjoys learning MahJongg and pickleball, boating with Curtis and the family, and all the joys of living in Morehead and on the water.
Harvie Gayle Leath Westberg
Director
Gayle is a North Carolina Licensed Clinical Social Worker Associate who became interested in hospice care while in graduate school at East Carolina University and felt honored to work at the Crystal Coast Hospice House as the Administrator and Social Worker. Gayle has lived and worked around the world but has called Craven County home for the past twenty-five years. She loves animals and enjoys boating, fishing, local high school football, and is an avid marching band fan.