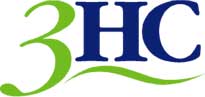 Crystal Coast Hospice House partners with Home Health and Hospice, Inc., familiarly known as 3HC, to operate the SECU Crystal Coast Hospice House and provide patient care. 3HC has been providing home health and hospice care to eastern North Carolina for over 35 years. Headquartered in Goldsboro, NC, where they also own & operate the highly respected inpatient Kitty Askins Hospice Center, 3HC is a private, non-profit organization with the experience and knowledge to bring the highest quality inpatient care to our patients and families.
More About 3HC
3HC (Home Health & Hospice Care, Inc.) is a leading local home health, hospice, and private duty provider serving eastern North Carolina. As a private, not-for-profit agency, their investors are the communities they serve. Profits that are generated are reinvested to better serve patients. 3HC's philosophy remains to provide care to those in need.
3HC is Medicare and Medicaid certified, and is recognized as a preferred provider with several managed care plans.
The home health, hospice, and private duty programs are accredited by Community Health Accreditation Program (CHAP), a designation shared by only the best providers.
The agency began in 1981 providing a skeleton of services to Wayne and upper Duplin counties.
Today, 3HC employs over 400 professionals and operates seven clinical offices, the inpatient Kitty Askins Hospice Center, and the corporate office located in Wayne County, North Carolina, as well as the SECU Crystal Coast Hospice House.
3HC maintains active membership in the Association for Home and Hospice Care of North Carolina (AHHCNC), the National Association for Home Care (NAHC), and the National Hospice and Palliative Care Organization (NHPCO).
For more information about 3HC, please visit their website.