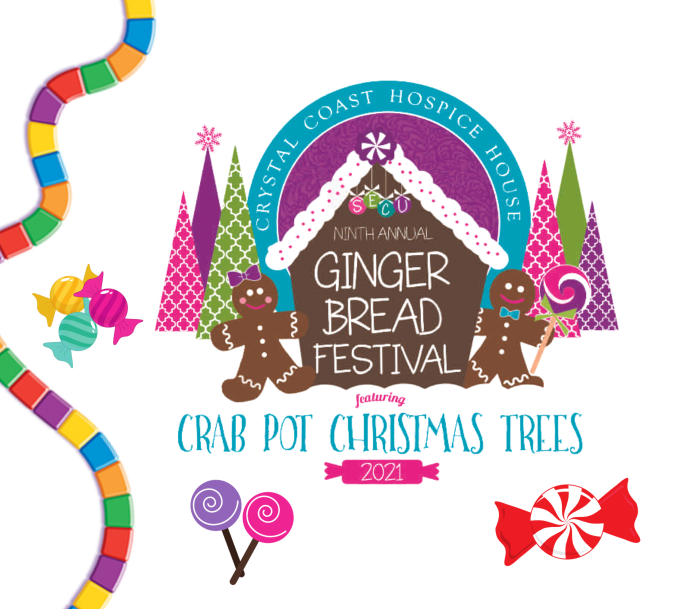 Gingerbread Festival Schedule
December 3-5, 2021     •     Crystal Coast Civic Center     •     Morehead City, NC
December 3-5, 2021

Crystal Coast Civic Center
Morehead City, NC
Join us for a festive weekend of holiday fun and entertainment!
7 - 11pm  •  Join us for the Gingerbread Festival Preview Party!
This ticketed event is THE CHRISTMAS PARTY on the Crystal Coast! Join in the fun as we kick off the 2021 Gingerbread Festival in style!
Preview Party tickets include entertainment by the Band of Oz, heavy appetizers catered by Seaside Sensations, Beer & Wine, a Silent Auction including decorated Crab Pot Christmas Trees, and your chance to see all the beautiful gingerbread creations in our competition before anyone else! Cocktail Attire Suggested.
SORRY, TICKETS ARE NO LONGER AVAILABLE FOR THIS EVENT!

11am - 5pm  •  Open to Public
Crabpot Christmas Tree Displays, Gingerbread Competition Displays, Kids Activities, Concessions
1 - 3pm  •  Face Painting
2 - 4pm  •  Santa Visit
11am - 5pm  •  Open to Public
Crabpot Christmas Tree Displays, Gingerbread Competition Displays, Kids Activities, Concessions
1 - 3pm  •  Face Painting
2 - 4pm  •  Santa Visit
4 - 5pm  •  Awards Ceremony
* Please be aware that the daily schedules are subject to change *